Global Management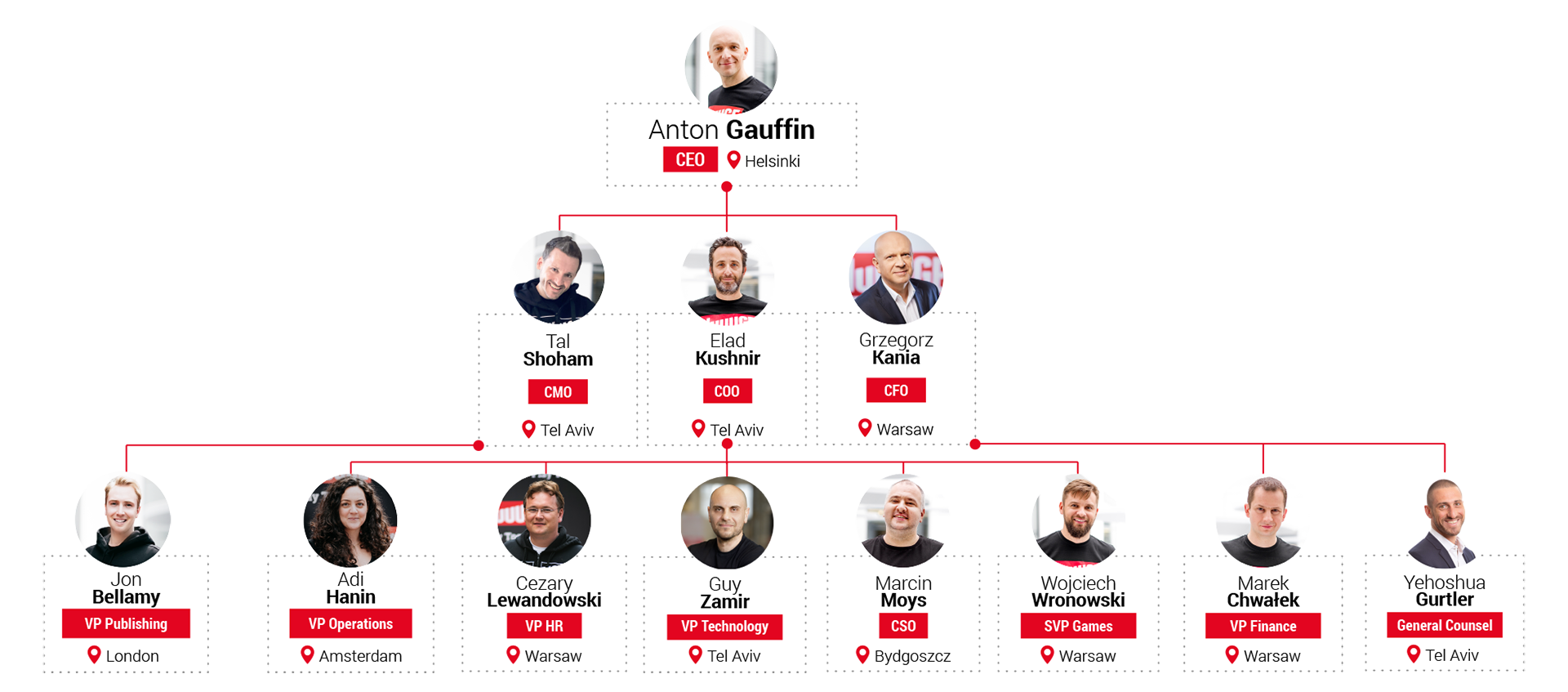 Anton Gauffin - CEO
Anton Gauffin is a founder, majority shareholder, Chief Executive Officer and President of Huuuge Inc. He started his professional career in 2000 in the telecommunication company operating mostly in Finland and in Estonia, called Elisa. In 2002, he founded Gamelion, a mobile gaming company, which he sold in 2007, reacquired in 2014 and rebranded to Huuuge in 2015. From 2009 to 2012, he was also the president of BLStream Inc. He is also a founder of several companies in Finland, Poland and Silicon Valley.
Tal Shoham - CMO
Tal Shoham has been Chief Marketing Officer of Huuuge since January 2020, based in our Tel Aviv office. He is responsible for our marketing strategy including monetization and user acquisition. Prior to Huuuge, Tal spent 7 years at ironSource (originally from Supersonic which merged with ironSource) and his last roles were COO and CRO of the mobile division. Tal has led and built many aspects including sales, account management, marketing, global offices and GMs, Mobile division's budget (largest division at ironSource) and the entire mobile division product organization - Mediation platform and the Ad-network side. Prior to ironSource Tal served as an officer in the Israeli Air Force as a fighter pilot for almost 10 years. Tal Shoham holds a Bachelor's degree in flight technology, state science and management from Ben Gurion University, Israel.
Elad Kushnir - COO
Elad Kushnir is Chief Operating Officer of Huuuge since February 2019. Previously he was an investor in Huuuge. Elad is an entrepreneur and an executive with over two decades of experience in hyper growth global environments including, amongst many others, companies like Appoxee (Sold to NYSE: TDC) and Playtika (Sold to Giant Interactive lead Consortium for $4.4B). Elad is a games industry veteran which has served as Playtika's SVP of Business and Corporate Development from 2013 until 2017 as well as being an investor, director, and an advisor to many games companies and games focused investment funds. He holds a B.A from Columbia University in New York City and is based in Tel Aviv office.
Grzegorz Kania - CFO
Grzegorz has joined Huuuge in 2020. He has over 20 years of experience working for global media and technology companies, most recently as the CFO of Agora SA, earlier as CFO of Ringier Axel Springer Polska and Onet - one of the largest Polish portals. His experience also includes a position of deputy CFO at UPC Polska, part of Liberty Global, the largest international TV and broadband company. Grzegorz is a fellow member of Association of Chartered Certified Accountants. Grzegorz Kania graduated from the Faculty of Computer Science and Management at the Wrocław University of Science and Technology.
Jon Bellamy - VP Publishing
Jon Bellamy joined Huuuge in early 2018. Previously he worked as an early-stage games industry venture capitalist at London Venture Partners, a leading games industry VC firm, where he worked on more than 15 distinct deals, from direct investments, to secondary sales and acquisitions. Prior to his time in VC, Jon worked at Jagex Games Studio, within the strategy and M&A team, where he worked on the turn-around and sale of the business to Shanghai Fukong Interactive Entertainment Co. (SHA: 600634). Jon Bellamy graduated from the Aberystwyth University Faculty of Economics and Mathematics, majoring in Economics, and is based in London, UK.
Adi Hanin - Vice President of Operations
Adi has close to a decade of experience in senior management roles with leading global social gaming companies. Being responsible for M&A and business development at Playtika starting in 2014, Adi was part of the largest M&A deal in the social gaming history. She continued her professional career in Europe, becoming the Chief Commercial Officer with a Dutch social gaming company until joining Huuuge. So far she has led various main acquisitions and numerous strategic high-profile projects. Adi is a well-known figure in the social gaming industry, both as a seasoned executive and as an investor and regularly speaks at conferences. Graduated with two degrees in Law and Business Management at IDC Herzliya in Israel, Adi ties her legal and finance background with her experience.
Cezary Lewandowski - VP HR
Cezary serves as Huuuge's VP HR, bringing over 19 years of HR experience to the team. Prior to joining Huuuge, he managed the Human Resources function and held HR Consulting roles in software development and global engineering companies including StepStone, British Petroleum, Daikin and CBI. At Huuuge Cezary leads the global HR Team, PR and EB & Communication teams. Cezary Lewandowski holds a Bachelor of Arts in applied psychology (University of Illinois) and Master of Arts in Industrial and Organizational Psychology (Roosevelt University).
Guy Zamir - VP Technology
Guy Zamir is Vice President of Technology of Huuuge. Guy has over two decades of experience in technology leading positions. His vast experience includes: building and leading high-performance R&D, technology and product organizations, while focusing on cutting-edge technology, value-oriented approach and operational excellence. He successfully led the delivery of projects that have positively impacted companies' business KPIs in the field of gaming technologies, big-data & analytics, machine learning & AI, marketing platforms, back-office tools, fraud prevention, command and control, intelligence and telecom. Guy joined the Huuuge team on October 2019. He is leading Huuuge central technology platforms, data and AI. He holds B.Sc. and M.Sc. in Computer Science and Mathematics and is based in the Tel Aviv office.
Marcin Moys - CSO
Marcin Moys is the Chief Security Officer since February 2020. He joined the Company in 2007, and since then has held various managerial positions in the core technology teams, including Vice-President of Operations (2014-2018) and Vice-President of Technology (2018-2020). Prior to joining Huuuge, from 2004 to 2006 he worked as a software developer in the field of digital document management systems. Moreover, he developed games for various platforms and companies. Marcin Moys holds a Bachelor of Science in computer sciences from the University of Computer Science and Skills in Łódź, Poland. Marcin joined the team in 2007 as a Studio Manager, with the goal of establishing a new studio in Bydgoszcz. He acted as Executive Producer for some of the key customer projects and took on managing all production processes. During the first phase of hyper growth of Huuuge Marcin did lead Technology, HR and recruitment departments to establish the team of core technology specialists.
Wojciech Wronowski - SVP Games
Since 2014, Wojciech has been the Vice-President of Product and, since 2018, Senior Vice-President of Games in Huuuge. He currently leads the Company's product and production teams. Furthermore, he is responsible for delivering continued progress with product performance. Wojciech "Wrona" Wronowski joined Gamelion in 2006 as a QA Lead and then held the positions of Associate Producer, Post Production Manager, Producer and Product Manager. Wojciech has a Master's degree in Economics and IT from the University of Szczecin, Poland.
Marek Chwałek - VP Finance
Since 2015, Marek Chwałek has served as Huuuge's Vice-President of Finance. He is currently responsible for the financial decision-making processes and provides strategic financial input to senior management. He also oversees the overall accounting process and plays a key role in developing and implementing financial procedures to improve and maintain Huuuge's financial condition. Marek gained his initial professional experience through the Management Development Program in PZ Cussons. He developed further skills and competences over a period of 5 years, when he worked in one of the top FMCG companies – Reckitt Benckiser. In 2012, he joined Huuuge as a Finance Director. Marek Chwalek is a graduate of the Warsaw School of Economics and an international chartered certified accountant (ACCA).
Yehoshua Gurtler - General Counsel
Yehoshua was appointed as the General Counsel of Huuuge in 2021. He graduated with honors from the Hebrew University Law School in 2002, and also has a Masters degree in law from the Tel Aviv University. Before joining Huuuge, Yehoshua was a partner in Israel's largest law firm Herzog Fox & Neeman, where he worked with clients from a range of online industries, primarily focusing on online gaming. Prior to that he spent 8 years as a lawyer in the Israeli Army, where he focused mostly on international law. Yehoshua has been repeatedly ranked by Chambers & Partners as a global market leader in Gaming and Gambling Law.